Building A
Chrysler Hemi Powered
1953 Plymouth Coupe

11-27-2018

A Old Style Gasser / Street Machine with Straight Front Axle



7-2018
Interior Finished
UPDATE 8-9-2017
Click on image below for a YouTube walk around car video. Fireing and running the Hemi and
a walk around the car just before the new glass and re-chromed bumpers.

https://www.youtube.com/watch?v=mVpLqtqKpbY

We are down to the wiper arms and Interior. Back glass will be installed when the interior is completed.

Grandson Charles loves old cars and hot rods.

Grandsons Paul first time to fire up the Hemi and drive it into the garage from the driveway>
Grandson Charles is supervising. Ready for the Glass Shop, Bolting on the Bumpers and
the anterior.
UPDATE 4 -2017

Getting Hemi out of Mothballs. A checked out and scoped. No rust has set up. 4-20-2017.



New Rocket Injector Raching Wheels and MT / SS Drag Radials. Fittne rear bumper. Time to send it to chrome shop.

MT Front Runners.



Front Clip is painted and polished since this Photo. Looks like we are getting very close to a complete body bolted together.


August 27, 2016 update start.
More Current Update Photos Below.



Updates Auguast 27, 2016 end

Light weight front axle with Wilwood spindles and disk breaks.

Found and purchased off of racingjunk.com. It had been on

a old race car for a long time but all is still new and never run.

The race car was never completed.

Front Half now built and ready for detailing. I also mocked up and built mounts for a
Big Block Chevy, just in case I decide to some serious racing again some day. These
old Hemi's just cost too much to beat on for my pocket book. I would like to
see if the Hemi ETs the projected high 11s at a good 1/4 mile drag strip though.
| | |
| --- | --- |
| Big Block Chevy Mounts vs. Hemi in the photo above. Who knows we might want to go racing again some day. Both in same car. | |
Big Block Chevy Mocked up and front mounts built. Since I'm running a GM TH 350 transmission I only
needed one rear mount and driveshaft A early Hemi is two inches shorter than a BB Chevy. But with the Hemi to
TH 350 adapter that adds about a inch to the Hemi length and when you add in the BB Chevy Short Water
Pump to Hemi water pump adapters to the Hemi both engines are within 1/2" of each other in length from
where the TH 350 bolts up and the end of the "short" Big Block water pump snout. So just pull one out and put
the other engine in with this setup. Change headers and maybe a radiator hose on top.

I found this rubber seals and body gaskets websites that have 53-54 Plymouth parts
CLESTERS in NC clestersauto.com/default.aspx
Steele Rubber Products www.steelerubber.com/?section=9

9-3-2016

Well finally, the Dash is now completely in and working. And with no room to spare with the AC Ducking.
Steering Wheel also came in. It's Old School with wood grain. As old school as you can buy today anyway.
We also tried the driver seat. I'm going to have to rethink the seats. I had both natural knees back when we
mounted the seats. Knee replacement don't bend for the brake petal as easy as it did back then. Paul was
about 4ft 8 inches when we mounted the seats and he is now 6ft 2 inches. So it is oblivious I didn't have a
good plan when we mounted the seats several years ago. They were ill suited for just about anyone, but me
back then.So back goes the seats 4" and also resetting the steering wheel. I have been playing it's radio while
working on it. Fun to have something working finally.
8-27-2016

Dash install is nearly complete. Looking Great! Very tight fit. I know the photos make
it look Orange-ie but it is a true Viper Red in Real life.

Bright Work installed in Trunk.

specks are dust on body part.



Deck Lid came out perfect! As soon as the latch assembly is installed it should fit perfect!
Always fun when it starts going together.
8-21-2016

We have accomplished very little the past few weeks. Installed
the dash and we are working on getting everything hooked up and routed
through the very small space under the dash. Color is now on the deck lid, and
both doors and we have color sanded them and polished them out to high gloss.



Step 1 completed of 3 steps. Still shows buff marks. By the end of step 3 it will be deep black black black.
(See Finished Deck Lid above)



Paul color sanding with DA and 1000 Grit Sandpaper.



No free space left with what is already mounted on the Firewall.



Very busy under the dash.



8-10-2016 Update

Dash is ready to go in.
We just need to install Cowl Vent, Emergency Brake Assy,
and Wiper Mechanism. Plymouth Viper Red paint.





6-27-2016 Update
Back on the project from leave of absence.

We have all the brake lines run and the brake system is ready for DOT 3 Brake fluid. We also have the custom built Aluminum Drive Shaft Installed with the 3.89 9" Ford Possi and finally the
AC/Heater Box is mounted on the Firewall. We are now working
out the wiring from front to rear.


I still have some wires just hanging. I have the mechanial temp and oil pressure gauges in the engine
even though I have converted to all electrical gauges. I want to compare where the gauge needles are
on the electrical gauges compared to the readings on the mechanical gauges. Once that is done
the old mechanical gauges will be removed.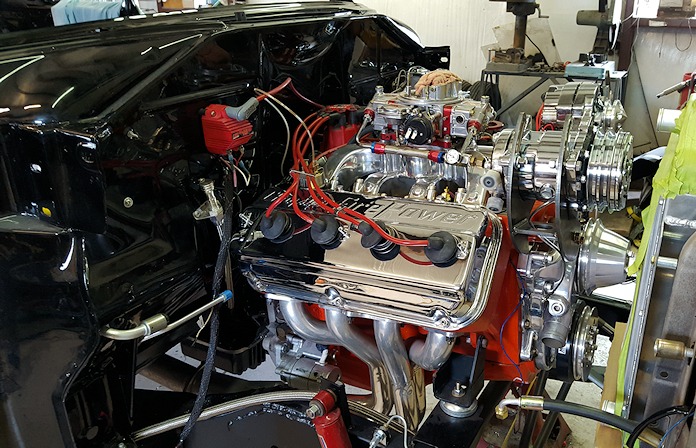 I wanted to run the AC Compressor and Alternator down low but I didn't have enough room with
the motor mounts.



NOS gauge faces and NOS Speedometer. Cleaned up painted, detailed and
ready to go in.



All gauges converted to electoral units. Connected to main wiring harness in photo.



This is the way to work under a dash!. These old dashes are bolt ins just like the old fords were.
New Firewall Insulator installed.
A den of snakes!!!!! Starting to get it sorted out and gathered up.



Some of the wires have disappeared, but many more to go.


Started Wiring This Week; A barrel of Snakes so far :)
We need to drill a few holes in the dash before
we paint it Viper Red.

____________________________________________________________________________

Frame Painted and Assembled and now the
Body is setting on the frame. So good to have
the body off the body stressful rotisserie.

James Condra, Grandson Paul, Mary and I applied the body to the frame
with No bruises or scratches to the body. Everyone but James managed not
to be photographed. Where am I? Someone has to take the pictures.
(Update 1-16-2016)

Finally the Body is resting safely on it's on frame.
All NOS stainless trim pieces will make the black really pop.

I was wondering if we would ever see this day!

After the body work on the Firewall there is still good Hemi to Firewall clearance.

Once we have cleaned up the trunk we will install the aluminum panels
that are already made and ready to install.

Just as planned, allot of room for Big Meats. Chevy 4 3/4" bolt pattern with
Moser Axles and screw in 1/2" long lug bolts.

Finally The Body Touches the Fame and is squared up.



Almost there, just inches from the frame.
We are breathing much easier now.

Now high enough to roll the frame under the body. Good thing
too since we didn't have any more room on the come-alongs.
We used a cherry picker to balance the back.

Setting up to remove the body from the Rotisserie.
Using a 2"x4" rectangle tubing through the door openings
and a cherry picker attached to the trunk latch bolts
to raise and lower the body.
1-09-2016 updates

Grandson Paul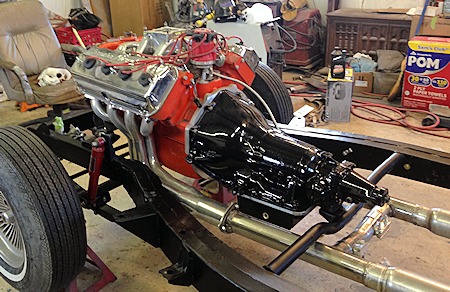 Danny Glenn Chevy TH 350 Transmission.
Hemi Hot Heads Adapter.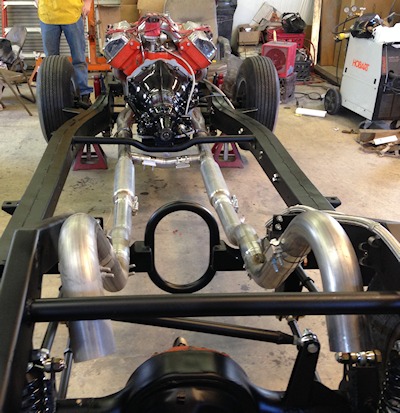 Exhaust 409 Stainless System

NE56 Hemi and TH 350 Transmission
now part of the painted running gear.
Time to knock off the dust then Clean and Polish.

Chassis ready to roll just needs Wheels and Tires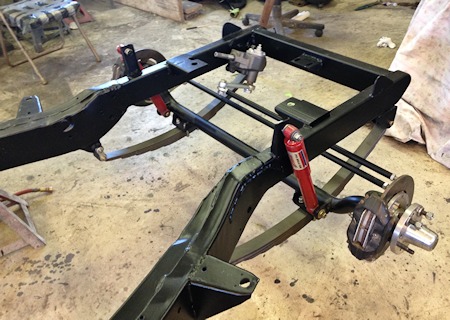 Straight Axle with Wilwood Hubs and Brakes.
Back Half paint and assembly


9" Ford Narrowed and after-market parts.



TIG Welded Back Half. Feels so good to know this is the last time
we put these parts together and they are painted now too.
Goal by end of December 2015 was to have the body by itself painted and polished and ready to marry back to the frame and running gear.

Interior also coated with Lizard Skin for sound control and heat insulation.
Bottom also worked and painted with Rat Rod Satin Black.
Goal met on time thanks to some great friends like Johnny Hurt.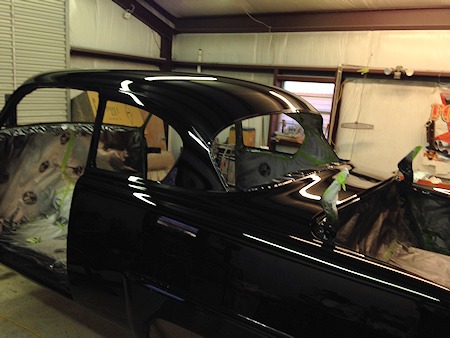 View of the left side of parts that have been polished so far.

Left Quarter Panel Polished.

Top Polished.


Left Quarter Panel Cut for polish.

Paint cut to polish

Lizard Skin Sound Control and Ceramic Insulation for the roof and floor pans.

Bottom Painted with Eastwood Hot Rod Satin Black. Square fixture at the back is for Fuel Cell.



Firewall painted with Spies Hecker FP 2002 "Blue Black".
Ready to cut and polish after it dries enough.



Is now Cut (color sanded) and Polished
--------------------------------------------------------------------------------------------------

We are down to the final sanding for the body.
We are using Black primer because the final color will
be black and we're also checking the straightiness of the body.
10-29-2015

I have never had primer go on this smooth before. I had a cool morning and
everything must to have been perfect to shoot it this morning. And no Runs either.
This will also check for any straighness issues in the body.
Finally we are starting to see some light at the end of the tunnel from all the
hard body work this past year.





Body Is Blocked Straight and now we are starting to:
Detail the Bottom on the Rotisserie
9-26-2015

First Coat of Primer is still wet. Next sanding and more primer
for a smooth surface to apply the bottom paint. The Firewall will also
be slicked down. Bottom looks a little rough on first coat, but will improve.



All the new floor pans installed, welds blended in, fresh clean surfaces,
now ready for the first coat of Primer.
The Only Way To Go...



1953 Plymouth body mounted on the Rotisserie, wrapped in plastic, the
bottom has been sand blasted clean. All in preparation to start detailing the bottom.

1953 Plymouth blocked straight and staged to be mounted on the Rotisserie.




Setting Up Back Half of the Plymouth
(I chose a narrowed rear-end and new back half frame and 4-link suspension)
.........Next .........
We have roughed in the body and it is ready for blocking on the back quarters. We have the 38" wheel tubs nearly
ready to install. We just painted and clear coated the walls of th

Paul didn't think we would ever get finished with the back half build or it would look so good.
| | |
| --- | --- |
| See image to the right: What the new aluminum under the protective covering on the floor pan and Taylor battery box looks like. The gray primer on the car just looks white under the florescent lights. | |
| | Aluminum floor pans and battery box are covered with white protective plastic which will be removed after car is finished. |
| Paul welding floor pans and he is reacting to me tanking his photo. He is modest but he likes the camera. We will be able to have a back seat! | Paul is finishing up back half by connecting original floor pan to new back half floor pans. |
The Wheel Tubs really turned out nice. Much care needed not to scratch them.

Fuel Cell will be isolated from the trunk and cardboard templet for trunk pan.


New Tub roughed in and ready to block sand. Compare to Original 53 tub on the right.



11-23-2014

After the Spies Hecker Clear Coats has been Shot. Below is a photo showing the mirror finish in a close-up shot.

This is putting the cart before the horse but once we have the wheel wells and trunk floor pans in place painting the inside of the trunk will be next to impossible. So it's a piece at a time on this project. I'm sure we will use allot of welding "Spark Paper" and welding blankets to protect what we have accomplished as we go forward.

We made the wheel tubs last summer. We bought a 38" rear tube kit. We needed a full trunk pan put back with the integrity of a stock pan so we can put the car on at Rotisserie to do the bottom of the car. So we had to make one of our half circle sides ourselves. We started the edge by breaking the sheet metal with Dagger Tools "Tilting Wheel" and then we cut two haves in 3/4" Plywood to sandwich the sheet metal and then hammered the rolled lip into shape. Grandson Paul McDaniel working the lip with a body hammer. The tilting wheel was used with the Harbor Firelight Bead Roller. The Tilting Wheel is one of the most valuable metal working tools we have purchased. Without it we would have lost a clean edge around the edge of the wheel tub.

What you are looking at is the Clear Coat Mirror Finish. You see the reflection of the masking papered frame rails on the trunk inside wall. The 38" rear wheel tubs will be installed next then the the trunk floors.

The Spies Hecker "Blue Black" base coat has been applied and the clear coat is next. Spies Hecker "Blue Black" is the Blackest Black you can buy.



Roughed in and ready for blocking.
11-03-2014


Working on the inside of the trunk.
Gettin gthe large wheel tubs painted and welded in is next.



Taping off new parts to protect them from the sand blaster. Cleaning up the inter rear quarter panels and trunk to start installing the new W-I-D-E rear fender wells and fabricate trunk floor pans.

I caught Paul off guard and got his great smile in the photo.
July 2014


Routing the 3 inch exhaust system was a challenge. But it all cleared once set up. No room to spare. Welded in brace at the top of the photo is a brace to hold the trunk hinges in place during fabrication. July 2014

Finally getting the back-half welded in and installed. Once I have the car rolling again then I will remove all the old sheet metal left, sand blast and clean this part of the inside of the body trunk area, then install new wheel wells and make new trunk floor pans and fuel cell.

Side shot of the 4-link and 9" ford housing. Just about ready to weave the 3" FlowMaster exhaust system through this maze of closeness. It's going to be a tight fit!





Blasted and Primed and ready to weld into the Plymouth.
I used Eastwoods Black Satin Epoxy Primer. This is the
first time I have tried this product. It was super easy
to shoot and it came our very smooth. This will keep
it from rusting until the body comes off the frame and
the complete frame has been painted.


Paul Tig Welding the back half together. Nest step is to blast it and
prime it then weld it into the Plymouth. Pre-bent rails would have
been nice but they don't make kits for 1953 Plymouths. Besides
old school is the best way for Paul to learn.

Back half fitted to the Plymouth then tack- welded together.
Removing from the car being very careful not to break off any of
our tack-welds. A 4-link cradle for a 48" narrowed 9" ford rear
end. This should take care of any horsepower we would make.

Teaching Grandson Paul McDaniel how a drag racing 4-link suspension works. With the frame true level the lower link is 0 - 3-degrees down to the front. This is very Important for control of car when a run is finished and letting off the gas. A 4-link can actually drive a car off the track or road on gas let-off at high speeds when set up wrong.

Cross member is welded together with drive shaft loop. Cross member is only installed with C-clamps until all the new rear frame rails are tacked together and removed to be welded up. Then the complete back-half frame assembly will be fully welded into the Plymouth at the front cross member to the frame and then at the rear frame crossover.


Just starting to cut and mock up the rear frame rails. Rear end will be a 9" inch Ford narrowed to 48" from bolt pattern to bolt pattern with a Yukon Posi and 3:89 gears. Stock, these Plymouths have small tires with very little tire clearance. If you want to run a nice size tire you will have to modify the wheel wells and frame in some way. 12-30-2013


Just starting to locate the 9" ford rear end. The tape and marks on the floor are from measuring all the original rearend locations with a plumb-bob and marking the locations on the floor for future references to center everything.
Old frame rails will be removed when new frame is welded in.
e trunk with Spies Hecker "Blue-Black- and Clear Coat.
Since we want to put it on a rotisserie, to do the bottom, we have to build the trunk pan back with the interrogatory
to support the body while on the rotisserie.

Body Work Progress Report

Rebuilt door hinges and now the door gaps are getting close.
For the hinges I used dodge 11/32 pickup door bushings and Ford Pickup 11/32 door pins which I had to cut off and shortened.
12-30-2013.


Struggling with hood gap problem. Door hinges really turned out nice. I remember how bad the doors were on my 53 Plymouth in High School in 1965. Also I found 2 new NOS door latches. - Nice opening and shutting doors on this 53 Plymouth! 12-30-2013.

Summer 2013

Summer 2013


Body work from patch panel and upper side scraps complete and ready for primer. Top is already primed Smoothing out factory door jams.
Summer 2013


Example of rot cut out and patch panels welded in, worst of two sides.

Upper scrapes picked and filed allowing very thin layer of filler.

Late 2012 and early and cold 2013


Left side has minimal repair needed. Metal being cleaned for primer with a strip and clean disk. The first time I've used a S&C disk. Very clean and smooth.
Late 2012 and early and cold 2013

Floor pans replaced. Blasted, welded, and coated with POR-15.

Photo 2012
Restoring the Dash

The old steering column notch had to be removed for the new after market steering column with automatic 3 speed shifter built into it.

A 53/54 Plymouth and a 66 Chevy II use the same part number for Speedometer cable. No kidding!!

It takes a very small radio to clear the wiper motor if the radio is located here. I had to trim the wiper bracket, and it almost wasn't enough. A very very small radio. I ended up putting 2 after market rectangular dash air conditioner ducks below the radio with some modification..
Doors
Both Doors unfortunately had been scrapped on something and had some creases across the bottom halves
There was not any rust out in the bottom of the doors.
Doors with Wet Primer and when
dry are ready for
80 grit LONG BLOCKING.

Note:
They were 80 grit long blocked three times and 220 long blocked twice before final 400 grit sanding for painting.

No photo of final blocking, My camera
was down for months.
Hood

Left: The front of the hood had to be picked and filed. Someone whipped the front of the hood with a small chain making allot of small dents. Someone had shaved the hood and the holes had to be opened and repaired.

The bottom of the hood was worked just as much as the top side. The bottom of the hood will look as good as the outside of the body. It was block sanded just like the body parts are. Sorry no photos of hood in primer

Picture below: for the bottom side of the hood. It looks like a large dent but that is just light playing tricks with the camera, there was only a small dent there, see the photo on the below left after the small dent was picked and filed..

Front Fenders

What the Front Fenders looked like before they were cleaned and surface rust removed.

Rust Removed but still much work to do.

Cleaned up on both sides is the drivers side fender.
I welded the seam that is on the 53/54 Plymouth front fenders.

I think it looks better with the seam smoothed over but it means more work working out the small amount of warpage you will get even if you are very careful with a low amperage wire welder and take your time.

After welding the seam I filled the imperfections with lead to keep moister from getting through from the back side.
Body
The cleaning of the body has began. Floor Pans are still in progress and the body turned out to be surprisingly straight
with no sign of damage from a accident or panels replaced. Rust at the bottom of the 1/4's at the fronts, right
behind the doors. Some rust to be cut out and replaced in the rear pan and move the gas filler tube. The top is not
rusty, what you see is power generated by a DA sander that has settled on the top. Floor pans being rotted (rusted)
out is almost a given on these old Plymouths because most of them had cheap rubber floor mats that contained
the moister when water got on the floor boards. The inside will be blasted with a sand blaster at some point.
I will coat all the inside, floor pans, and in the bottom of the 1/4s with POR-15 to keep rust from forming again
as the car ages in the future. (6-12-2012)
Misc Photos
The Parts that have already been worked, block sanded and sanded to 400 grit and are ready for paint. I had a total left knee replacement last year so I worked on these parts because they were the easiest for me to handle. Sorry I didn't have any photos of the deck lid. I took off the T-Handle and updated the 53 decked to a 54 Plymouth lock and pushbutton type. It looks much better than the T-Handle did. The deck lid was in very good shape except for a few small hail pecks that I picked and filed.

It has taken allot of work to clean the surface rust off some of the parts but they cleaned up very good. I use

"

Rust - B - Gone

' and some sand blasting.

Good solid door jams with no rot at the bottoms.

Lines on the floor are from a plumb-bob marking where all the original front suspension was before it was cut out. These reference marks were used to align and center new front frame and suspension.
Big Block Chevy Motor Mounts also fabricated.

| | |
| --- | --- |
| Big Block Chevy Mounts vs. Hemi in the photo above. Who knows we might want to go racing again some day. Both in same car. | |
Big Block Chevy Mocked up and front mounts built. Since I'm running a GM TH 350 transmission I only
needed one rear mount and driveshaft A early Hemi is two inches shorter than a BB Chevy. But with the Hemi to
TH 350 adapter that adds about a inch to the Hemi length and when you add in the BB Chevy Short Water
Pump to Hemi water pump adapters to the Hemi both engines are within 1/2" of each other in length from
where the TH 350 bolts up and the end of the "short" Big Block water pump snout. So just pull one out and put
the other engine in with this setup. Change headers and maybe a radiator hose on top.
Click Here for '354' Hemi Build
Photos on Page 2