CURRENT PROJECTS #2
1940 DELUXE FORD COUPE

8-11-2007 Cleaned up and ready for yearly New License Plate sticker and Inspection sticker day. Photo
was taken in front of the Historical Ballinger Santa Fe Depot with original red brick road which is now the
City Hall for Ballinger Texas. The old 40 still looks pretty good considering it was painted in the early 1970s
with acrylic laquer. See photos below of how the car looked last year when I decided to take it out
of mothballs and clean it up and get it running and driveable again. It's now been almost one year since
I started driving the 40 again. With some modern changes, this past year, it drives better
than it ever did in the 1970s. The original 1940 AM Radio still plays. Voltage is reduced form
12 to 6 volts with resisters. The quailty of sound from a tube type 1940s era radio is nothing to
write home about.

July - August 2006
Mary and grandson Paul are polishing on the 1940 Ford Coupe after I got it running, cleaned and compound polished.
It cleaned up very good considering it set for 28 years without being washed or started. The 327 CI
Chevy small block engine only had about 60 miles on it when parked. I had a rear coilover suspension
installed by someone in Abilene in the late 70s. He had the spacing between the coilovers too close together.
When the car went around a corner it leaned over and wouldn't right itself. I had to redo the rear suspension
to correct this. The engine sounds great, don't smoke, has very good compression and oil pressure.
I need to get a side and back views photos when it is cleaned up next time.
I couldn't believe it cleaned up so good and run so good too.
I traded a 1927 T Ford Roadster street rod for this car in 1974. I then prep and painted the body
and installed a all out 327 Chevrolet engine. The car did run a high 13 at the drag strip with that engine.



This internal stock 327- 300 horse was built and installed in 1978 and had only 60 miles on it.
I pulled the oil pan to check the bottom end for rust, no rust found, then touched up the
Chevrolet orange paint, and purchased a new air cleaner and valve covers. The old
polished intake was eat out from corrosion so I had to order another polished intake manifold.



The interior cleaned up good so I updated the seats to some nice bucket seats.
The 40 has a Super T-10 four speed with 220 low gear.
Here is what it looked like when I was working on it to get it road worthy again.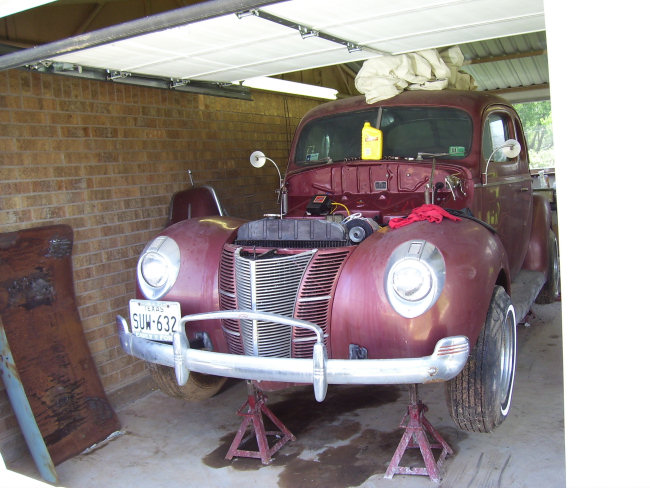 Engine in the foreground is a 1986 vette 350 Tuned Port 350 Chevy I was building for the 57 Chevy.



April 2006
The 40 was looking pretty sad at this point. Amazing what a little soap, compound, new tires,
and elbow grease can do for a old car. Tires and wheels only had about 60 road miles on them, as
the engine did. Tires were rotten and had to go but the wheels surprisingly cleaned up and
polished.

What the 40 looked like right after it was finished in 1974 / 75. It competed in several Car Shows.
Right after completion went to the Street Rod Nationals in Arlington Texas. This car and Dickie Jone's
similar 40 Ford Coupe were two of the cars pictured in the next issue of Rod and Custom
magazine.